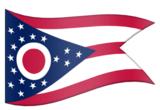 Gambling in Ohio: Online Casinos, Land Based Casinos, History and Regulatory Information
Ohio has an interesting history of gambling in the state due to the simple fact that there were very limited options for gambling for a very long time, and then all of a sudden the liberalization took over in a rapid pace. In its early years, Ohio prospered as a frontier State and then as part of the Mississippi river group. During those times prohibitions were established one after the other. History goes back as far as 1790 reporting a law that levied fines on gamblers, which were, interestingly, hard to enforce. Lottery draws were also prohibited early on.
The first period of relaxation came in the 1930s. The Ohio General Assembly approved pari-mutuel wagering on horse races in 1933, and in that same year the Ohio Racing Commission was founded to oversee commercial horseracing. The second oldest regulated betting market in the Buckeye State is the Ohio Lottery, having been legalized in 1973.
The Ohio Lotto Commission was created right away, and in 1987 lottery profits were directed towards state education funding. There were no meaningful events up until 2009, when Ohio voters approved the foundation of 4 casinos in the state. One casino opened in each of the following big Ohio cities: Cincinnati, Columbus, Cleveland and Toledo. Two years later, video lottery terminals were authorized at Ohio racetracks, so it's safe to say that Ohio residents now have multiple racinos and casinos at their disposal. There are no tribal casinos in the Buckeye State.
Land based casinos
Before 2009, Ohio gambling enthusiasts were forced to seek casino entertainment elsewhere, mostly traveling across neighboring states. Indiana, Pennsylvania, West Virginia, and Michigan offered casino services to Ohio residents until the Buckeye State got its first casino facilities in 2012. Now, there are four casino establishments and several racino type venues in Ohio. The maximum limited amount of active slot machines which is determined by law is already accomplished with the 4 existing casinos (of 5,000 slots). This raises the question whether Ohio casinos have room to expand in the future. It would take new legislation to introduce any changes of this kind.
Jack Cleveland Casino in Cleveland opened in on May 14th, 2012. Owned and operated by Jack Entertainment, Jack Cleveland Casino offers 100,000 sq. ft. of gaming space. The venue can be accessed from Public Square, and also from the Terminal Tower and the Tower City Center shopping mall. There are over 1,600 slot machines, over 100 table games and 35 electronic table games on the casino floor.
Hollywood Casino Toledo opened on May 29th, 2012 in Toledo. The venue stretches across 125,000 square feet of gaming space, with more than 2,000 slot machines, 60 table games, and 20 poker tables. The two remaining casinos are Hollywood Casino Columbus in Columbus and Jack Cincinnati Casino in Cincinnati. Hollywood Columbus occupies 160,000 square feet; it is home to over 2,150 video and digital slot machines and more than 70 table games. Hollywood Columbus Casino also features a poker room and offers several restaurants, as well as musical events. The last full-service casino to open in Ohio was Jack Cincinnati, a two-story casino covering 100,000 square feet. It contains 2,000 slot machines, 85 table games and a poker room, with 3 restaurants located within the facilities.
The state's four casinos are open 24/7, and all of them are 100% non-smoking.
Neighbouring States: Indiana, Kentucky, Michigan, Pennsylvania, West Virginia
Online casinos
For real money wagers, you can turn to sites such as Cafe Casino, or Casino Max. These casino brands cater to US players, including Ohioans, and provide video slots of top quality, as well as proven banking options, and dedicated customer support.
Regulation and legality of online gambling
The legality of online gambling in the State of Ohio is unspecified. Since Ohio is late to the party overall, with land-based gambling being legalized in 2009, it would be too much to expect to have any elaborate legislation addressing online wagers. The existing statutes predate the internet, and therefore do not mention any gambling activities conducted over a device such as a computer or a smartphone. The absence of an appropriate, updated legal language creates confusion when it comes to establishing a legal, regulated market in the Buckeye State.
Many issues surround Ohio's non-activity on iGaming. The owner of Jack Entertainment pushed for legal casino gambling, but the 2009 Casino Amendment restricts players from making bets outside of the four approved casino gambling establishments. Now, the same man supports online gambling and, ironically, finds the whole ordeal tricky due to legislation he himself fought to get approved.