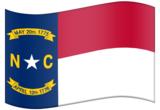 Gambling in North Carolina: Online Casinos, Land Based Casinos, History and Regulatory Information
It has been historically determined that there was gambling in North Carolina as early as 1749. That was when the first gambling laws appeared. The General Assembly adopted an English statute which considered any gambling debt over ₤100 immoderate and excessive. Several years later, gambling in public was completely forbidden. However, in 1784 the anti-gambling law was deemed invalid as the state needed to raise revenue for the government by imposing taxes on card games and gaming tables. In the early 1800s, lotteries were blossoming, but soon the legislature banned them and other forms of betting and held to that stance until 1945. That was when charity raffles an bingo were legalized. High-stakes bingo halls managed by Native Americans started operating in 1982 and the first compacts for full-scale casinos were signed in 1994.
The North Carolina Education Lottery was launched in 2006 and boosted the state's education system. The existing tribal casinos, although there are not many of them, create hundreds of jobs. The old North State is hardly the new Vegas, but the locals have a decent selection of gambling options close by. Unfortunately, there are no horserace wagering facilities. Greyhound tracks with pari-mutuel wagering operated in the state from the late 1940s to the mid-1950s, and the track were closed after that. There was a period of video poker operators charging for computer time while running sweepstakes cafes and offering free slots and video poker machines in the early 2000s, but they were eventually outlawed, and now real casino gambling can only be seen in the couple of Indian casinos operating currently in North Carolina.
Land based casinos
A quick remainder - North Carolina does not have any functioning racetrack facilities, and it doesn't have commercial casinos. Its gambling industry relies heavily on lottery and two casinos located on Indian reservation land. The Eastern Band of Cherokee Indians is the only federally recognized tribe within North Carolina borders. They own the two casinos in the state: the Harrah's Cherokee and Harrah's Cherokee Valley River. The venues are located in the Great Smoky Mountains, in the Qualla Boundary territory. The Cherokee Tribal Bingo high-stakes bingo parlor is also owned and managed by the Cherokee Indians.
The Harrah's Cherokee Casino had a grand opening in 1997 and, at first, offered slots, video poker and keno that required skill, as well as electronic table games. The casino was allowed to introduce live table games in 2013, after the tribe signed a new compact with the state. Since then, Harrah's Cherokee also offers craps, roulette and house-banked table games. It owns the only legal poker room in the Old North State, with 20 poker tables and regular tournaments. Harrah's Cherokee Valley River Casino & Hotel is located in the Nantahala National Forest and offers blackjack, craps, roulette, slot machines, and bingo. The Valley River facility became operational in 2015. The two casinos are just over one hour apart.
If you're crazy about bingo, other than Cherokee Tribal Bingo you can visit Eastway Beach Bingo in Charlotte and Stumbilicious BINGO in Greensboro. However, keep in mind that these bingo establishments do not offer Class II games. Slot machines that determine results through bingo cards are not available, only strictly bingo, and some side entertainment.
Neighbouring States: Georgia, South Carolina, Tennessee, Virginia
Online casinos
Those with ideas to run their internet gambling business out of North Carolina have it clear - that is illegal. However, if you merely want to enjoy the games that have been put online by foreign operators, you don't need to worry. Nothing in the state's criminal code specifically points to online gaming being illegal, which additionally motivates players to seek out reputable online casinos hosted offshore.
US-oriented gaming sites who would take North Carolina players as well are Bovada Casino and its sister sites, then venues like Uptown Aces, Red Stag and Casino Max. Bovada is a specially created online gaming spot for US-based players with games made by Real Time Gaming and Betsoft. At Bovada, North Carolina gamblers can take pleasure in slots, 3D Slots, table games, video poker, and specialty games, take advantage of a beneficial bonus system and make safe payments, with the casino covering each player's fees for one payout per month.