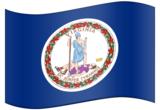 Gambling in Virginia : Online Casinos, Land Based Casinos, History and Regulatory Information
Historians have dated horse races back to the colonial days. It is known that the state banned horse races in 1897, which did not stop the activities. They simply sunk underground. Live and simulcast betting was eventually legalized in 1997, which is also the year when the first, and only, racetrack opened its doors to patrons from Virginia and beyond. Colonial Downs hosted thoroughbred races and harness racing, which discontinued by 2014.
The off-track betting facility was closed in 2015. The racetrack was closed due to disputes between the owners and the horse breeders. Shenandoah Downs inherited the horse racing industry and opened its second season in 2018.
The Virginia Lottery was established in 1988. There are over 5,000 retail locations where locals can buy lottery tickets, and the state also participates in Powerball, Cash4Life and Mega Millions Lotteries. All profits from the lottery sales are used for educational purposes. As for casinos, Virginia is one of the few casino-less US states. There are no active land-based casino facilities run by commercial companies or Native American tribes. In May 2018, plans were announced to reopen the dormant Colonial Downs horse-racing track and also a $700 million casino and resort up the highway from it that will be run by Pamunkey Indian tribe.
Land based casinos
Virginia is an interesting place to gamble at - it has over 600 bingo halls and not a single active brick and mortar casino. There is no lacking of bingo games, lottery draws, scratch-offs and instant win games, but there is not a single poker table in sight. Virginia casino lovers are used to crossing over to West Virginia, Maryland, Delaware or North Carolina for some slot and table real money action. The MGM Grand casino across the Potomac River in Maryland is highly popular among players from Virginia. In fact, it is estimated that 40% of MGM Grand's business minimum is owed to patrons from the Old Dominion.
So far, the best chance of Virginia getting a proper land-based casino is the casino and resort project of the Pamunkey Tribe. This Native American tribe spent more than 30 years seeking federal recognition. They own gorgeous land, but need an economic boost, something that would be a stable source of income. According to some details released in the press, the tribe is interested in a 600-acre site near Quinton in New Kent County. However, they have a long way ahead if they wish to run a Class III gaming facility.
In the meantime, Virginia players explore alternative options such as 'party casino' establishments, which offer games that are just like casino games, without having real money involved. Taking a bus or a car ride to other states where gambling is allowed is another valid option, as well as going on cruise casinos which operate in international waters.
Neighbouring States: Kentucky, Maryland, North Carolina, Tennessee, West Virginia
Online casinos
When it comes to onlines casinos for US players, Bovada Casino is the first brand that comes to mind. This website was created to cater to US gamblers exclusively. It rates highly among US punters, due to stable software, many promotions to make use of and convenient banking methods that guarantee anonymity, an important detail for any US slot lover or poker player.
Bovada's library is home to over 120 Vegas-style casino games, from slots and 3D games, to virtual Caribbean Hold'em, craps, Pai Gow and Let 'Em Ride. The site also offers video poker and a decent assortment of specialty games like bingo, keno and lottery. The choice of banking methods comes down to bank cards, vouchers and Bitcoin.
Regulation and legality of online gambling
Knowing that brick and mortar casinos are still outside the law frameworks in Virginia, we can assume that online gambling is also against any current laws enforced in the state. The true story is something in between. The Virginia legal code does not include any new and specific internet gambling laws. However, it lacks the distinction between online and land-based gambling. Electronics are covered by the term 'gambling device', and so online gambling can be presumed to be outlawed in the Old Dominion. That doesn't stop the state's residents to invest their personal funds into US-focused gambling sites which are based offshore. Virginia did grant licenses to several fantasy sports websites in 2016. The state lottery also makes use of the internet in the sales of lottery tickets, so perhaps there is something to hope for in the upcoming years in the field of web gambling in VA.