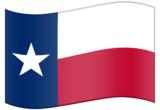 Gambling in Texas: Online Casinos, Land Based Casinos, History and Regulatory Information
It's safe to say that gambling began in the Texas territories even before Texas became a state. There are records of horse races being held with early bookmakers taking bets without oversight. When Texas was settled with people without any cultural tradition and moral code; with Europeans, other United States settlers and Mexicans mixing along the borders in the pre-Civil-War era, Texas became fruitful soil for vice. Saloons and gambling halls were built before churches. The interesting thing is that, even though Texas was so tolerant of gambling, alcohol and drugs in the 19th century, the state lottery was forbidden in the state constitution.
Following the American Civil War, the Mexican border became a place of lawlessness. There were more and more gambling houses, now frequented by cowboys and buffalo hunters, as well as professional gamblers such as the legendary "Doc" Holliday and Charlotte "Lottie Deno" Thompkins. Vice districts were normal occurrences. Dallas had "Frogtown", Galveston had "Postoffice Street" and Houston had "Happy Hollow". In face of the WWI the districts were officially closed, but continued to run as hidden enterprises.
After WWII, national sentiments against gambling were strict, and only loosened in the later decades. Pari-mutuel wagering within the state was allowed in 1987, and the state lottery began running in 1992. The right of Native American tribes to establish gambling parlors was also recognized in 1987, which lead to the Tigua tribe and the Kickapoo tribe opening their casinos in the following years. Until now, these are the only forms of legal gambling in the Lone Star State.
Land based casinos
Land-based gambling operations in the state of Texas are allowed exclusively to Indian tribes thanks to the Indian Gaming Regulatory Act (IGRA) from the 1980s. There are three federally recognized tribes in Texas, and all three were diligent to run a casino.
The Kickapoo Traditional Tribe of Texas runs the Lucky Eagle Casino in Eagle Pass which offers Class II gaming. It was established in 1996, including bingo, poker, blackjack (a bespoke Kickapoo variant) and slot-like electronic pull-tab dispensers. In 2004, the original Lucky Eagle Casino facilities which were of modular construction were replaced with a new 100,000-square-foot (9,300 m2) casino and arena space. The Lucky Eagle houses over 3,300 gaming machines.
The Tigua tribe of the Ysleta del Sur Pueblo operated the Speaking Rock Entertainment Center in El Paso. The Tiguas were the first to open a land-based gambling establishment after the IGRA in 1993. The venue included high-stakes bingo, poker and a special variant of blackjack "Tigua 21", as well as slot machines. After years of lawsuits with the state, the venue closed in 2002.
Ultimately, the Alabama-Coushatta Tribe opened their Entertainment Center in 2001 and stacked it with slots, poker and blackjack tables, but the venue lasted barely several months before it was closed in 2002. The newly established Naskila Entertainment Center now stands on the Alabama-Coushatta tribal lands, east of Livingston. It is a 30,000 sq. ft. gaming facility with 800 electronic gambling games (more than 350 slots).
Casino cruise ships are the alternative "land-based" entertainment option in Texas, if we don't count eight-liner game rooms, horse and greyhound racetracks, charitable bingo halls and raffles. These gaming boats take advantage of international waters where no gambling laws apply; they pick up passengers out of Texas ports and take them on one-day gaming cruises. One of the more well-known casino boats is the Aransas Queen Casino (renamed to the Jacks or Better Casino in 2017) which hosts more than 200 slot machines and over a dozen live dealer tables.
Neighbouring States: Arkansas, Louisiana, New Mexico, Oklahoma
Online Casinos for Texans
Texas law is straightforward when it comes to wagering on land. In the case of online betting, this type of practice isn't specifically mentioned and licensed online gaming sites do not exist in Texas. No Texas law makes it a crime to place a bet over the internet, but the market remains unregulated. In these conditions, Texans are free to visit and place real money bets at sites which are hosted offshore.
A fair number of web-based casinos are friendly towards USA citizens, including Texans, and they feature software which supports users from the Lone Star State. Gaming sites such as Slots.LV and Slotocash Casino are excellent examples of US-friendly gaming environments available non-stop over the internet. Slots.LV includes over a hundred slot machines and two dozen table games originating from leading providers like Rival, Betsoft and Real Time Gaming. By accepting Bitcoin, Slots.LV provides additional anonymity and ease of access to Texan gamblers. Slotocash is also one of the several favorable options, as it contains games made by Real Time Gaming (a full library). These venues accommodate slot lovers of all sorts, both those who like nostalgic 3-reel slots and basic gameplay and new-generation players who enjoy elaborate features, 3D graphics and complex game engines.
Since websites open to Americans can't obtain their licenses in the States or host their servers in the country they seek regulation and licensing elsewhere. For example, Slotocash is licensed with the jurisdiction of Curacao and Slots.LV holds a license issued by the Kahnawake Gaming Commission.